To reserve your Waterman Caddie or Golf Board please call our Golf & Lifestyle Retail store at 949.248.3002 ext 5.
Golf Board Fees: $25 Member Walk-On | $35 Non-Member Walk-On | $60 Advanced Booking
Click here to pre-register to surf at GolfBoard at the Beach during your next round!
To check for availability and reserve a Golf Board or Phat Scooter in advance please call the golf shop at 949-248-3002 ext. 5. Vehicles are in high demand and there is limited availability. You will be asked to sign a waiver to use a vehicle and to expedite the check-in process we suggest you fill out a waiver prior to checking in. Filling out a waiver is not a guarantee that we will have a Golf Board or Phat Scooter available at the time of check-in.
Golf Board TGours
Enjoy an unforgettable experience of cruising the links on the coolest new way to ride.
Guided Tour
Cruise the turf with a Team Member.
You'll get the inside scoop on the Links. From the names of the surf breaks to the best photo spots.
8:30 am – Sundown
45-minute experience • $125 adult • *$99 youth
Tour & Lesson
Pick from either a tour then a lesson or a 5 hole playing lesson!
8:00 am – 10:30 am or 3 hours to Sundown
75 minute experience • $200 adult • *$150 youth
To book or to check for availability please contact Eric Lohman, PGA General Manager at 949-248-3021 or elohman@monarchbeachgolf.com. Up to four participants. Tours / Lessons can only be guaranteed if booked 48 hours in advance and based on availability.
*ages 15 or older to participate. Must be accompanied by an adult.
Waterman Caddie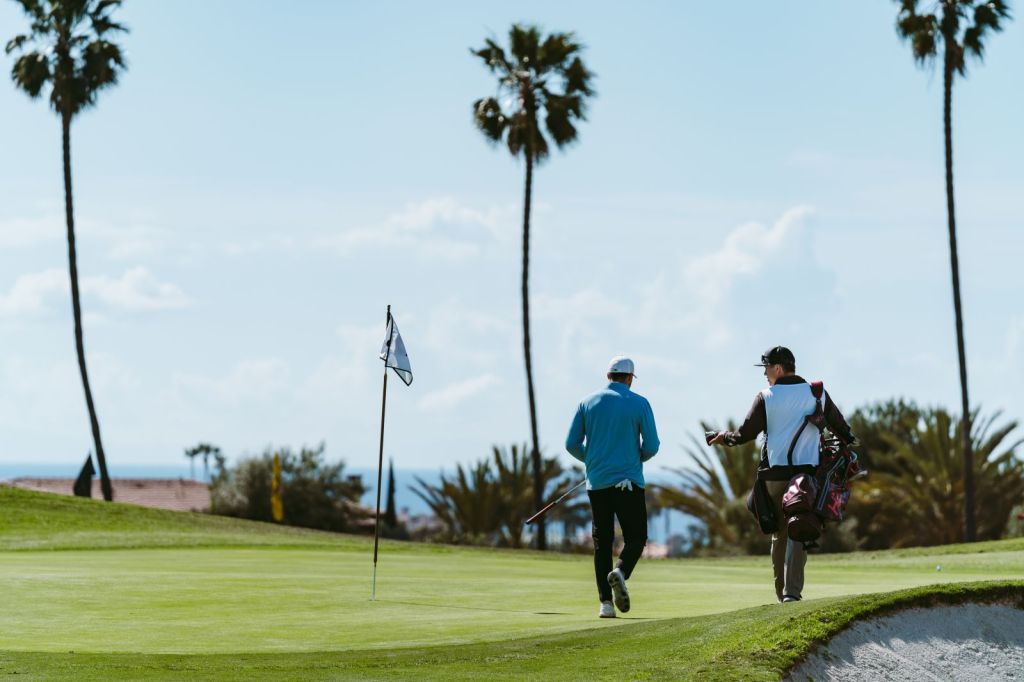 waterman
noun
wa· ter· man | \ ˈwȯ-tər-mən,
Definition of waterman
one who works or lives on or near the water
To reserve your Waterman Caddie please call our Golf & Lifestyle Retail store at 949.248.3002 ext 5.
Monarch Beach Golf Links is proud to offer an exemplary Caddie Program called our "Waterman Caddies". Think of our Waterman Caddie program as your personal Golf Concierge and Surf Buddy!!! You can enjoy the expertise and assistance of a professional caddie or forecaddie as you play Robert Trent Jones' golf course. Each Waterman has received intensive training, learning the nuances of our beautifully crafted oceanfront course along with all things Salt Creek Beach and Monarch Bay. We're confident you'll discover that we have one of the finest and most unique Caddie Programs in the world.
Waterman Caddie duties include:
Informing players about the characteristics of each hole including the length, distance to hazards or land forms; where trouble might be lurking
Locating all golf balls and providing distances to the hole
Raking sand bunkers, replacing divots and cleaning clubs
Tending to the flagstick, repairing ball marks and cleaning the golf balls
Handling all of your food, beverage, cigar, tobacco and merchandise orders
Helping players with club selection and reading our sometimes tricky greens
If needed taking pictures or videos of your group via your smart phone
Finally if you need some assistance in arranging a Stand Up Paddle Board (SUP) lesson, surf excursion, or if you are just interested in the current ocean water temperature, swell direction or current points leader of the World Surf League, our Watermen are at your service.
Pricing
Waterman Forecaddie & Waterman Walking Caddie for 18-Holes
Gratuity Not Included. Suggested Gratuity is $40-$60+ per player/bag.
1-4 Players Forecaddie | $225
Single Bag Walking | $225
We are certain you'll appreciate the advantages our professional Waterman Caddies provide. They'll help improve your game and give you the freedom to play at your pace. You can even walk the course, if you desire, to take in the beautiful surroundings, unburdened by your golf bag and unrestricted by your golf car.
Like all of the amenities at the Monarch Beach Golf Links Golf Club, the Waterman Caddies is designed to create a memorable and inspirational golf experience.
To reserve your Waterman Caddie or Forecaddie please call our Golf & Lifestyle Retail store at 949.248.3002.